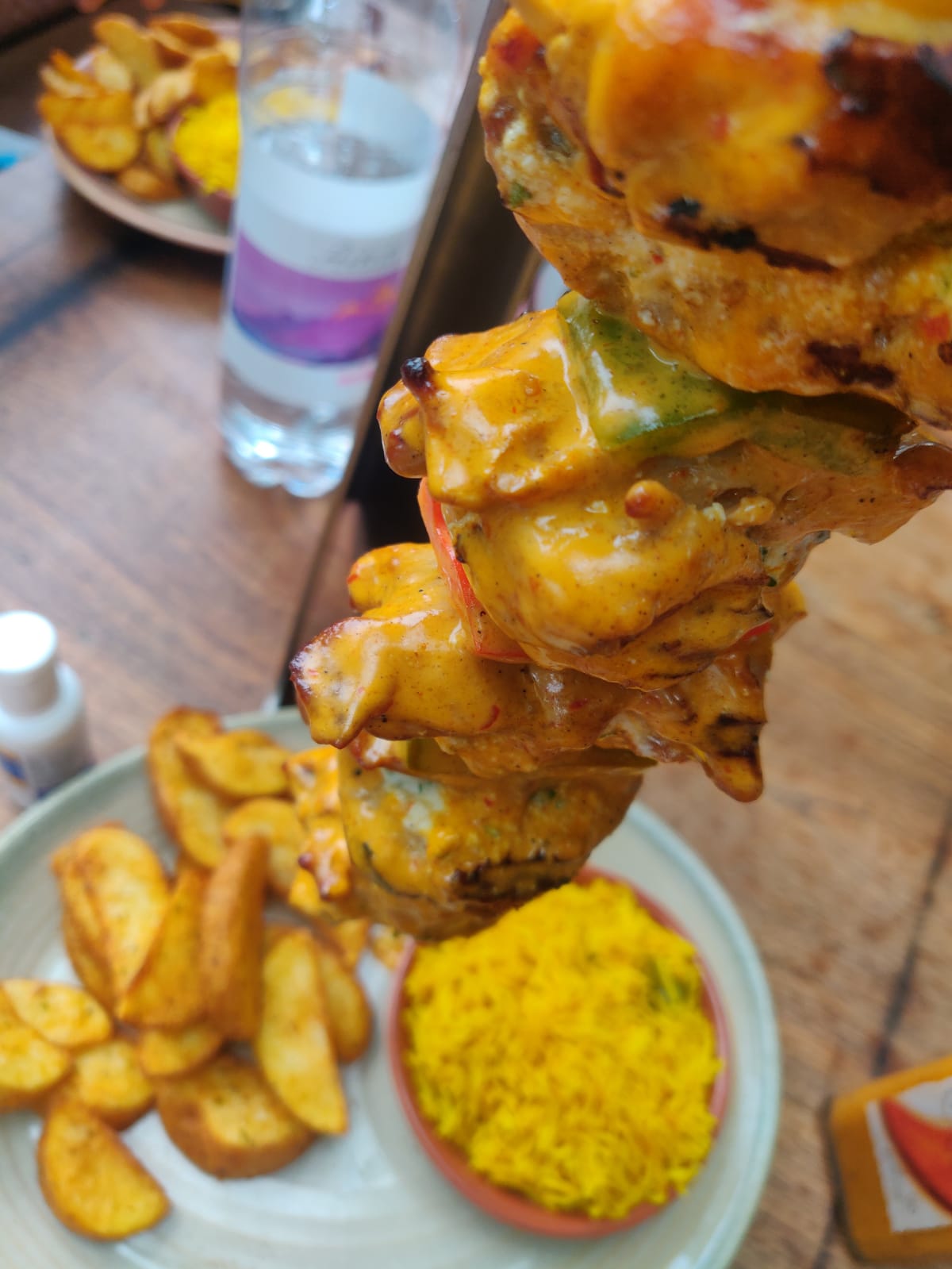 I love nandos, but how is the post pandemic dining experience at Nandos? Has the food changed, how is post pandemic service?
Ambience
Well I headed to the Orion Mall nandos, it's a beautiful restaurant that overlooks an artificial lake. The hybrid seating, allows for both indoor and outdoor seating. The wonderful Bangalore weather, delivered a pleasant outdoor dining experience. The restaurant had arranged the tables with ample distance. Great atmosphere
Service
Service was quick and fast. Despite not having a reservation, a table was quickly given. Order was promptly taken and service was rapid. In less than 20 minutes my entire table got their food, mighty impressive. Waiter (Ashwath) was super helpful. There was a struggle with payment (our fault), but staff was cordial and courteous.
Food
I ordered the espedata carnival with two sides. This was about 800 INR, but was a full meal!
Piri-Piri Wedges
I love these wedges, and I continue to adore them. Nando's does a great job of cooking them to have a nice crispy skin, while the potato is soft. They're crunchy, but what really makes them standout is the wonderful spice rub. A piri-piri spice that they use is not overpowering and exceedingly spicy, but rather compliments the potato flavour. They also have a wonderful herby undertone, that adds a breath of freshness. This time I did feel the wedges were under salted and had a little less piri-piri than I'd like, but luckily nandos gave me a shaker so I could spice them up to an appropriate level. I definitely recommend.
Spice Rice
I'd like to call this pulao, but oh well. It's a nice tangy rice, not spicy at all. It has vegetables, with a nice yellow-orange rice that has a subtle tomato flavour, but otherwise is well salted and seasoned. The cook on the rice is perfect, with grains not clumping together! It isn't oily either.
Espedata Chicken
The dish is a spectacle. The entire skewer is vertically hung in front of you, with the waiter warning you that the top is hot. I love theatrics, and the presentation is super unique. The real star is the chicken, in India we have a market obsessed with coating the meat in as much masala as humanely tolerable. Nandos takes a different approach. The nandos chicken, has a wonderful herby feta filling. Feta is a lighter cheese, and when combined with an assortment of herbs adds a richness to the dish. You have your chicken that's marinated in the hot, spicy peri peri sauce, but inside the herby cheese lining is subtle yet impactful. It breaks the acidity, and makes the chicken feel moister.
The grilled vegetables work in the background. They aren't the star, but nandos does a phenomenal job ensuring the vegetables are juicy and crunchy. Perfectly cooked.
I do have my qualms. The chicken was a tad overdone, but still had a nice texture. The marinade despite me ordering an extra-hot, was not as spicy as I'd like.
Conclusion
Nandos delivered an enjoyable culinary experience. Great Service (shoutout to ashwath), top tier food and a wonderful ambience. The espedata carnival was great as ever, and I enjoy the consistent quality food I receive at nandos. I did have some problems with the "extra hot" spice level being milder than it should. Still with extra sauces available, and extremely helpful staff I'd definitely visit again!